When it comes to choosing a dentist to help preserve and enhance your smile, only the very best will do. Dr. Merlo–Quiñones will deliver the smile you deserve while establishing a lasting relationship along the way.
Born and raised in Miami, Dr. Merlo–Quiñones discovered her passion for dentistry shortly after graduating from high school and has never looked back. She performed her undergraduate studies locally at Florida International University, while working as a dental assistant. Upon graduation, she was accepted into the prestigious Ivy League University of Pennsylvania School of Dental Medicine, where she received her D.M.D. with honors. Returning to Florida, she concluded her studies with her residency program through the University of Florida. Since receiving her degree, Dr. Merlo–Quiñones has been residing and practicing in Miami where she and her husband, Javier, have three beautiful children that keep them on their toes at home.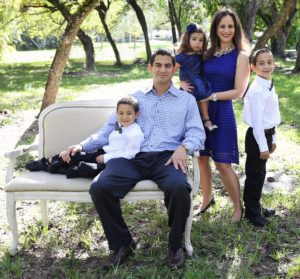 As a dentist, Dr. Merlo–Quiñones helps her patients achieve their dental goals by making their goals her own and by offering comprehensive dental care in a compassionate and gentle manner. Through the use of her dental expertise, technology, and artistry, she can perform from the most basic of procedures such as fillings to more complex treatments such as computer guided surgical implants. Dr. Merlo–Quiñones also offers additional cosmetic procedures such as in-office teeth whitening and Invisalign™.
At Miami Dentistry Center, we know your time is valuable and treat it as such. As a patient, you are part of the family and when you visit us in our office, our goal is to assure you leave knowing you have received the best dental care possible.
Professional Affiliations
• American Dental Association
• South Florida District Dental Association
• Florida Dental Association
Achievements and Awards
• Academy of General Dentistry Award
• Achievement in Endodontics Award
• University of Pennsylvania School of Dental Medicine Dean's Scholarship
• Proctor & Gamble Oral Care/Hispanic Dental Association Foundation Scholarship
Ready to schedule a visit? Call us to schedule your visit and experience getting treated by the best dentist Miami has to offer.