Our dedicated team of dental professionals is committed to providing our patients with the finest dental care available. They have the knowledge to answer all your dental questions and concerns and guide you along the way to ensure you are satisfied at every visit. Our team has over 98 years of combined dental experience.
Ana Carrasquero, Office Manager
Ana began her career in dentistry in 1992. Throughout the years, she has not only accumulated extensive hands-on knowledge in just about every aspect of patient care and running a top-notch dental practice in Miami, but has attended various workshops and dental seminars through the American Association of Dental Office Managers (AADOM).  When asked about what drives her in her career and daily work, Ana said, "I enjoy working with Dr. Merlo because of her compassion and honesty that she has for her patients. You can be assured that the patients' best interest will always be first. The most important part of my job is trying our best to create a welcoming, calming, and proficient atmosphere where our patients can feel confident and relaxed knowing the care they receive is the finest care possible". Outside of the office, Ana enjoys spending time with her family and 2 children, Nicole and Alex, having fun in the Miami sun.
Silvia Montalvan, Senior Patient Care Coordinator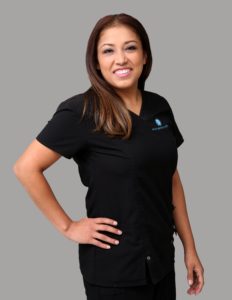 Silvia was born in Nicaragua, and was raised in Miami.  She has been working in dentistry since 2006.  Silvia is an extremely hard-working, dedicated and knowledgeable Senior Patient Care Coordinator. She is not only the first face patients see when arriving at our office, but she is also involved in extensive behind-the-scenes activities involved with patient's experience and care.  When asked about what she loves most about working at our office, Silvia said, "I love being part of a great team!" During her free time, Silvia enjoys being with her family, playing with her 3 kids and going to the beach and parks in our beautiful city of Miami.
Jacqueline Acosta, EFDA – Expanded Functions Dental Assistant
Jacqueline was born in Miami and raised in New Jersey.  Her heritage is Cuban-Mexican. She attained her dental radiology license and EFDA credentials, and has over 15 years experience as a dental assistant. Jacqueline assists Dr. Merlo-Quiñones, in all dental procedures, including general dentistry, restorative and cosmetic dental procedures, orthodontic procedures, endodontic procedures, implant surgeries and periodontal procedures.  She has been married to her husband since 2005, and has 2 beautiful girls which she enjoys so much spending time with.
Harry Paola Thorpe, R.D.H., Registered Dental Hygienist
Harry has been a Registered Dental Hygienist since 2004, and during her years of experience, has established a great reputation with both her team and her patients. Along with her professionalism and commitment to her patients' health and well being, she maintains a high standard of excellence with her work ethic. Harry believes in promoting patient-specific preventative and educational dental services to promote and maintain good oral health. Outside of the office, Harry maintains an active lifestyle, spending most of her time outdoors with her family. Harry has been working with Dr. Merlo-Quiñones since 2015 and is very happy to be part of an honest team that is continually looking to improve the practice, with the patient's best interest and care as it's focus.